Pandit Anant Manohar Joshi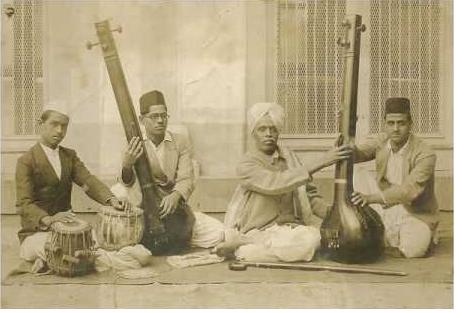 Gajananbuwa's first and principal Guru was his father Pandit Anant Manohar Joshi affectionately called
Antubuwa
. His family and many of his disciples used to address him as 'Baba'. Antubuwa was born in the year 1881 in a small village '
Kinhai
' near Aundh in Satara District in Maharashtra State. Antubuwa's father Pandit Manoharbuwa was also a singer gifted with a melodious and sweet voice. Pandit Manoharbuwa's performances were so impressive that in a concert where other musicians were also performing Manoharbuwa would be the last performer; an honour normally bestowed upon the 'best' musician in a gathering of several musicians.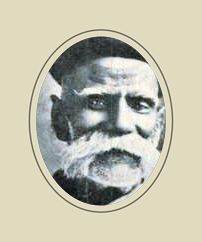 Pandit Manoharbuwa unfortunately died when Antubuwa was only seven years of age. Antubuwa's mother after some preliminary training in Music to Antubuwa by one Mr. Ayachit approached the great
Pandit Balkrishnabuwa Ichalkaranjikar
who agreed to teach Antubuwa. Balkrishnabuwa himself was a highly accomplished and eminent musician of Gwalior Gharana Gayaki. Antubuwa received training from Balkrishnabuwa for about eight to nine years after which Antubuwa began his own career as a Gwalior Gharana Vocalist initially as a court singer of the princely state of Aundh. As luck would have it Antubuwa got an opportunity to travel with and accompany on Tanpura the Great Ustad Rehamat Khan Saheb whose father was Ustad Haddu Khan Saheb one of the originators of the Gwalior Gharana.
Needless to say that exposure to Ustad Rehamat Khan Saheb's Gayaki enriched Antubuwa's Gayaki. After couple of years in the company of Ustad Rehamat Khan Saheb Antubuwa settled in Mumbai and started his own school of music. In addition to teaching, Antubuwa also wrote and published books for learners of music. However, due to the changed circumstances in his life Antubuwa left Mumbai and returned to Aundh as a court singer of the Aundh State. His services were welcomed by the well cultured and supporter of arts the prince Balasaheb Pantapradhinidhi. Young Gajanan was already showing signs of a sharp and intelligent learner of his father's music. In Mumbai Antubuwa's school was open for nearly eight hours. So young Gajanan was exposed to music for a long time on a daily basis. However Gajananbuwa's face to face training from Antubuwa started in Aundh. The initial musical conditioning (संस्कार) of Gajananbuwa took place under his father's tutoring. The seeds of pure Gwalior Gayaki were thus sown in the fertile mind of Gajananbuwa at a very tender age. Although Gajananbuwa later mastered the Gayaki of Jaipur and Agra Gharanas his first and last love always remained the Gayaki of Gwalior Gharana. In fact his Violin playing mostly was based on Gwalior Gayaki. It is interesting and quite revealing how a good grasp by Gajananbuwa of his father's Gayaki was observed by none other than the great Ustad Faiyaz Khan Saheb of Agra Gharana. Gajananbuwa had an opportunity to meet Ustad Faiyaz Khan Saheb in Mysore. Khansaheb asked Buwa to sing for three consecutive days. Buwa responded by singing for an hour or so on each day. After the third day's singing session of Gajananbuwa Faiyaz Khan Saheb asked Buwa how-come Buwa picked up the Gayaki of Ustad Rehamat Khan Saheb given that Buwa would not even have seen Rehamat Khan Saheb let alone listened to Rehamat Khan Saheb's music. This is an excellent example of how a sensitive and intelligent young boy learnt the Gayaki of his father Antubuwa whose Gayaki in turn was influenced by Rehamat Khan Saheb's Gayaki! Giving a judgement on his son's progress in Music Antubuwa as a Guru of young Gajanan observed that "Gajanan was very intelligent and quick to pick up with ease - like a blotting paper - the various features of Gayaki! He had an inherent talent for rhythm . He also learnt 'Jaltarang' Harmonium,and Sitar. He thus learnt both Gwalior Gayaki and instrumental music at a young age". Please check out the following web links to listen to Antubuwa's performances. Gajananbuwa had accompanied his father in some of these performances. Listening to Antubuwa's performance is like going close to the original roots of Gwalior Gayaki the Gayaki that Gajananbuwa preserved and enriched throughout his life.
Raag Marwa: Jhananan Payal Baje
Raag Yaman
Raag GaudMalhar
Raag Jaijaiwanti
Raag Shree: Gajarawa Baje & Yeri Hu To
Here are couple of anecdotes about Antubuwa that give some insight in the depth of Antubuwa's thinking about Music. One of Gajananbuwa's disciples gave his maiden performance in the Shivanand Sangeet Mahotsava in Aundh. After his performance was over, the somewhat nervous disciple approached Antubuwa and asked how did he - i e the disciple performed. Antubuwa asked the disciple what Raga he rendered. The disciple named the Raga. The young disciple was eager to learn Antubuwa's response. After a pause Antubuwa said "Well, Now that you have rendered such and such Raga, when would you start SINGING the MUSIC" We leave the reader to work out the relevance of this story. On another occasion whilst teaching one of his disciples Antubuwa said : A Raga is not a flat in Bombay with two doors. It is a palace with hundred doors! The same concept about Raga that it has many faces was described by a metaphor of an elephant who can be viewed by many angles. The vocalist who described it was another great musician of recent times - Pandit Kumar Gandharva. Perhaps this is an example of how great minds think alike! Pandit Antubuwa passed away in the year 1967 in Gajananbuwa's house in Dombivali. For an in depth analysis of Antubuwa's Music please refer to Dr Ashok Da Ranade's book "They lit the way".
-- Dattaji and Bacchubhai
Comments on Pt Antubuwa's recordings on youtube
My grandfather Late Shamrao Bendre, Sangeet Praveen, had learnt music from Antubuwa Joshi in aundh. Antubuwa's photo is always kept and respected alongside other gods in our house..Its so great to listen to Antubuwa singing here..thanks a lot for posting the video...it will be great if you can share pictures if you have any..may be I will see my grandfather in some picture... http://www.youtube.com/watch?v=_WZzJ4_f6bg&lc=16hm-4slzrutKu67fE8o-Tno0Fv4GNaASPHeqvh-7Ro&lch=email&feature=em-comment_received - Vinay Bendre